5000 Women Then and Now
On March 3, only 98 years ago in Washington, D.C., 5000 women gathered and marched the day before the inauguration of President Woodrow Wilson. The parade was organized by the National American Woman Suffrage Association. Things turned ugly. An angry crowd began jeering, spitting on and tussling with the marchers. Some even tossed lighted cigars at the women. Reportedly the police stood idly by. The Secretary of War had to call in troops to restore order.
On March 3 this year in Abidjan, Ivory Coast, 5000 women gathered at a roundabout in order to peacefully march to the town hall of Abobo, a suburb. The women were in support of Alassane Ouattara, who international observers and election officials within Ivory Coast say won the presidential election last November. The only problem is, Laurent Gbagbo, the former president, refuses to step down and has the backing of a ruthless military. How ruthless?
As in the U.S., the women of Ivory Coast have long been a gentle, and yet powerful, force for change. They have been respected for their views and have succeeded in ushering in reform — until now.
According to BBC News, an eyewitness who participated in the March 3 demonstration said they heard young girls shouting, "Tanks are coming! Tanks are coming!" They turned in the direction of the girls and saw a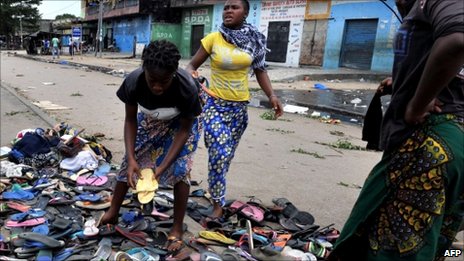 rapidly advancing force. The women quickly dispersed, but not before eight, one of whom was pregnant, were killed.
The eyewitness went on to say, "We assume that we are in a democratic country, then our duty is to march again and again. We, the women of Ivory Coast, will continue our action. Laurent Gbagbo wants to rule the country by force. Suppose he killed all of the women of Ivory Coast, whose ruler would he be? We firmly believe that God will help us."
In U.S. history, the road for women reformers has not always been smooth, but it is hard to imagine government troops being sent to inflict harm rather than to rescue unarmed women. Many believe the next step for Ivory Coast is civil war.
In January, we saw the birth of the new nation, Southern Sudan. Next month, presidential elections will be held in Nigeria, Africa's most populous nation. World news agencies are primarily focused on Libya, a major player in international oil, but its population is between 6 and 7 million, whereas Ivory Coast has 21 million and Nigeria has 150 million people. Far more people are affected by political unrest in West Africa than in Libya.
It is time to support peaceful expression of views and anything that improves the social climate that will enable more to walk the pathway of truth. Let us pray for peace in Ivory Coast and for peace in Nigeria during upcoming elections.