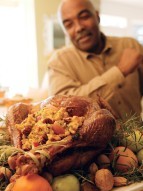 In the United States, the fourth Thursday in November is set aside as Thanksgiving Day. School children are taught that some of the first European settlers of America, the Pilgrims, and Native Americans living nearby gave thanks and shared a harvest feast around this time of the year in 1621. Europeans and Native Americans had a history of celebrating the harvest by giving thanks. This time was significant because it brought different cultures harmoniously together for a worthy purpose.
Over two hundred years later, Abraham Lincoln, one of America's favorite presidents, chose a day in November to be the national day of thanksgiving. It was not made an annual holiday until the U.S. Congress made it so in 1941.
One can argue that a person should be thankful every day of his life. It is a good habit to adopt. But in support of the idea of having a special day to give thanks, there is much to gain by taking off a day, gathering with loved ones and uniting to express thanks to God for blessing us.
In 1844, Henry Alford wrote words to the hymn, "Come, Ye Thankful People Come." The first verse is about God's people gathering to thank him for the harvest. The other verses call us God's thankful people, his fruitful field that he will gather to take to his glorious harvest-home.
Come, Ye Thankful People, Come
1.
Come, ye thankful people, come,
Raise the song of harvest-home!
All is safely gathered in
Ere the winter storms begin;

God, our Maker, doth provide
For our wants to be supplied;
Come to God's own temple, come,
Raise the song of harvest-home!

2.
We ourselves are God's own field,
Fruit unto His praise to yield,
Wheat and tares together sown,
Unto joy or sorrow grown;

First the blade and then the ear,
Then the full corn shall appear;
Lord of harvest, grant that we
Wholesome grain and pure may be!

3.
For the Lord our God shall come,
And shall take His harvest home;
From His field shall purge away
All that doth offend that day.

Give his angels charge at last
In the fire the tares to cast,
But the fruitful ears to store
In His garner evermore.

4.
Even so, Lord quickly come
To Thy final harvest-home!
Gather Thou Thy people in,
Free from sorrow, free from sin;

There, forever purified,
In Thy presence to abide;
Come, with all Thine angels, come,
Raise the glorious harvest-home!
Perhaps the best way for us to show our gratitude to God is to dedicate our lives to him. Then we become the kind of harvest he wants and will gather to live eternally with him.
How do you show your thankfulness to God? Do you have family or community thanksgiving traditions?
Contact Us to send us your answer.